The dynamics around event sponsorships have changed as people have shifted from in-person events to online and hybrid event formats due to the pandemic. While these hybrid and virtual events have contributed to reaching bigger audiences, they have not precisely helped event sponsors embrace online or hybrid event sponsorships. Event attendees and organizers have been struggling to establish an in-person-like event experience with sponsors at hybrid events.
We're here to help you with that. Keep reading for four best practices to follow for successful hybrid sponsorships.
Choosing the right hybrid event platform is the first step to creating a better experience for attendees and sponsors. The functionality and features of the event platform are significant factors that decide the level of interaction between the sponsors and attendees. Therefore, make sure you choose an event platform with innovative branding features and allows sponsors to have increased visibility before, during, and after the event.
Check out Performedia's newest product, the Interplayer - Interactive Brandable Media Player, designed to offer elevated branding experiences.
Pre-event - A lot of engagement and networking can happen even before the event. This is undoubtedly an opportunity for sponsors to get attendee engagement even before the event day. So allow sponsors to host pre-event digital sessions that will help them to kickstart their branding.
In-event - Event day is the most critical time from a sponsorship standpoint. It's the time to make the most out of the event platform and use its branding features. Event gamification like polls, quizzes, surveys, and other games are a few touchpoints where the sponsors interact with the attendees.
Post-event - Even if the event is over, sponsors still have a chance to reach their potential leads. Having sponsor logos on the 'Thank You' emails sent to the attendees allows the interested clients to connect with the sponsors. Also, if you have an event app, you can share event-related content and enhance sponsor visibility.
Attendee behavior is crucial in understanding how attendees respond to event sponsors. For example, if there is an in-person sponsor booth, is the audience getting attracted and approaching the booth? Are they curious about what the sponsors have to offer? Observing and recording this data will help sponsors optimize their conversions in future hybrid events.
Besides, attendee analytics such as the number of visitors on sponsored content, clicks on sponsor product links, CTA clicks, and other data insights of attendees with sponsors are the key data drivers that allow them to calculate their ROI.
Creating sponsorship packages and adding digital elements such as access to attendee analytics will offer sponsors enormous value.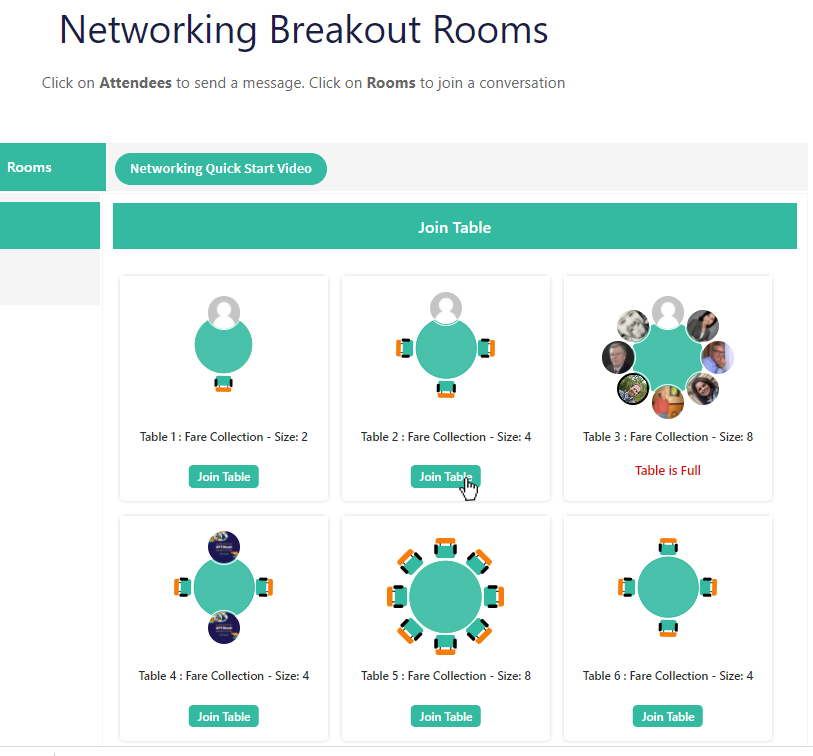 Seamless communication has the potential to create authentic connections. By establishing genuine relationships with attendees, sponsors have a high chance of converting their potential leads into clients/customers. This is only possible with communication.
To facilitate the same, organize roundtable discussions and allow sponsors to participate. In addition, encourage them to interact with the attendees at areas like virtual/in-person waiting rooms, breakout sessions, Q&A sessions, and live chats.
Moreover, have dedicated online and offline sponsor booths where attendees can have direct conversations with the event sponsors. The sponsors can then schedule meetings with attendees that show interest in their product. Ensure that virtual and in-person attendees can easily communicate with the sponsors.
Sponsors need to have well-designed, brainstormed hybrid sponsorship strategies to succeed in promoting their product/service.
While creating hybrid sponsorship strategies, your goal should be to have sponsors' ample visibility online and at the event venue. So work towards getting your sponsors in front of the attendees at the right places and at the right time.
In hybrid events, sponsors should plan enough resources to assist the attendees at virtual and in-person sponsor booths. For example, all the incoming online meeting requests and messages should be attended to and responded to by the assigned resource. Additionally, to make the in-person audience feel more involved, you can suggest sponsors have sponsored swag bags. Giving something tangible always makes an impact.
Similarly, other such hybrid sponsorship strategies should be planned by tracking and A/B testing.
In Summary
Give sponsors the right tools and opportunities for sponsoring
Help sponsors in tracking and analytics of attendees
Facilitate barrier-free communication between sponsors and attendees
Support sponsors in creating hybrid sponsorship strategies
Conclusion
Hybrid events offer the best of both worlds. They have the potential to split the audience and provide enormous reach and offer value to organizers and sponsors. In addition, hybrid sponsorships will bring sponsors unprecedented growth in the long term and allow them to explore innovative ways of promoting themselves. Thus, considering the virtual and on-site aspects of event sponsorships and having an audience-centric hybrid sponsorship strategy will yield the best attendee and sponsor experience.
For satisfying your sponsors and attendees, you need the right event platform. At Performedia, we have robust technology, seasoned teams, and crews to manage all the event's onsite and online operations. We also offer innovative opportunities like virtual booths, live-question record features, interactive surveys, and polls to help network the attendees, thus making your event exceptional in all aspects.

Schedule a call with us, and we'll show you how we can elevate your hybrid events.