When planning a virtual or hybrid event for a corporation, it's important to have a good event hosting platform to drive event efficiency and meet its set targets. A good event hosting platform enables you, as the host, to connect with your audience. You can set up a two-way communication where you share information and ideas, and they instantly give feedback without delay. It also helps address issues, can provide both the host and the attendees with a pleasant experience and make the event memorable. Choosing Performedia as your event hosting platform provides you with all these benefits and more, such as on-site support, branding, and networking features.
Performedia is an all-inclusive platform and service for hybrid and virtual events founded in 2003. They handle various aspects of event organization, from scheduling pre-recordings to training staff and speakers and running the live show. The company's main vision is to be a one-stop solution for turnkey hybrid and virtual events. They hope that online and on-site attendees can have an unforgettable event experience with their platform's various features. While their main solutions and services are effective management of hybrid and virtual events, the company also offers event video production.
Performedia's offerings incorporate numerous features such as complete capture of videos on-site to assist with revenue, immersive and easy-to-navigate virtual content and features, interactive polling, quizzes and games, sponsor benefits, unsurpassed networking and various language support.
Performedia's hybrid and virtual event platform is based on four core features, which are live and on-demand video, various platform styles to choose from, event internet in a box and the ability to combine the services of disparate vendors and elements into one. In addition, our boots-on-the-ground offering ensures that you're always covered, whether it's a virtual or hybrid event. These four features can now be expanded to contain the following:
Customize your virtual event to reflect your brand
Performedia uses a customizable player that lets you decide what your attendees see rather than the teleconferencing software, such as Zoom. You're completely in charge of how you brand your company and sponsors without needing to install the Zoom software. Ways by which Performedia allows you to customize your event include:
live animated text ticker with adjustable timings
confetti that showers the Zoom screen when certain items get clicked
rotating or static clickable ad banners with adjustable timings
Other features are interactive surveys that can track how viewers answered and automated delivery of customized CE certificates alongside notification of certifying bodies.
Optimize your virtual experience for a multilingual audience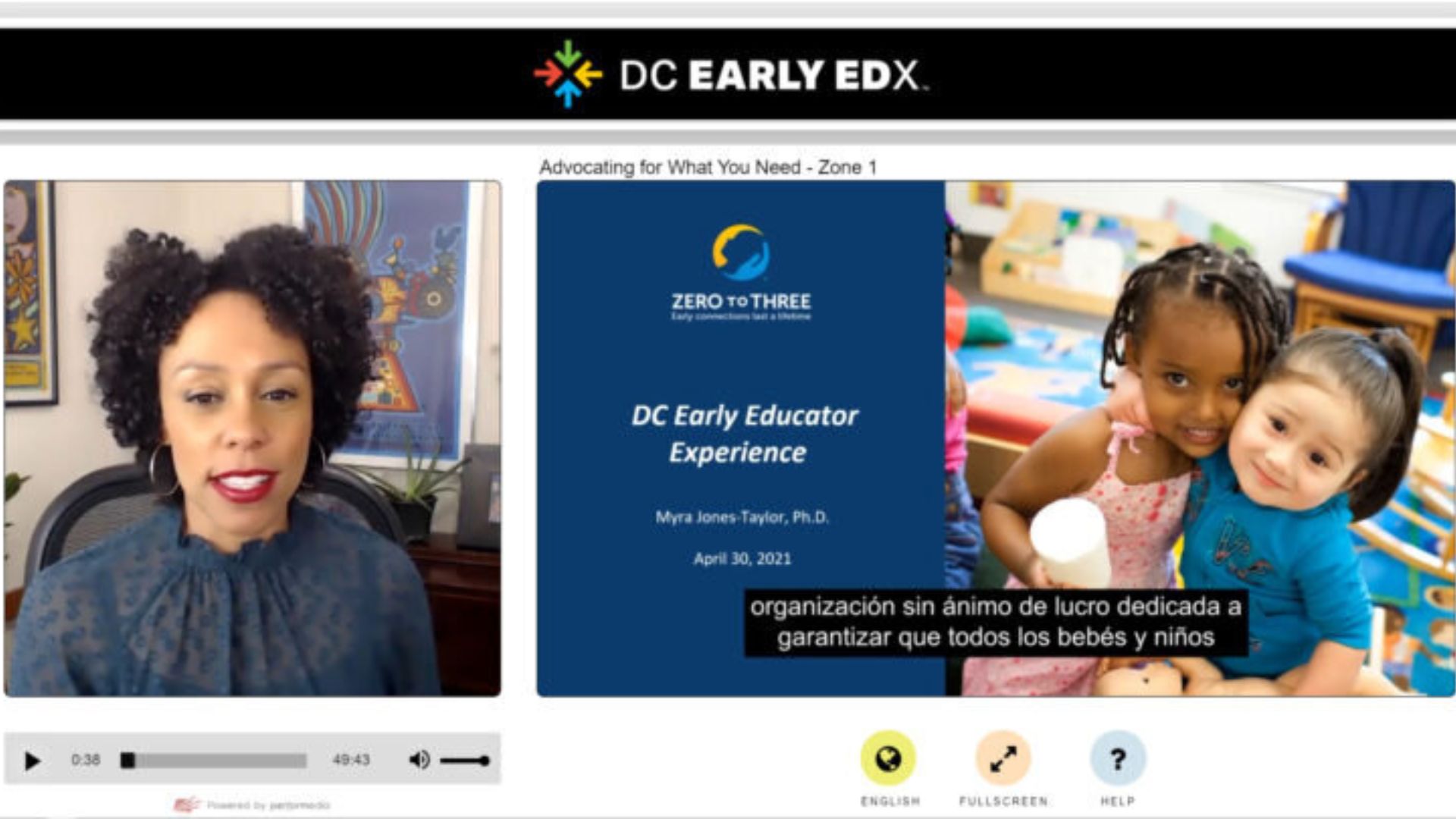 Performedia's English and foreign language captioning and slide translation help ensure your hybrid or virtual event is ADA (Americans with Disabilities Act) compliant. Their captioning and interpretation choices include English captioning to meet current regulations on access and live foreign interpretations to reach worldwide audiences. Their slide translation option also aids the effort, and this covers various topics, including technical ones. Captioning also means you can conduct granular searching later through recorded content.
Bring some fun with Perfomedia games
Performedia helps your audience retain information obtained from the event by keeping them engaged with quizzes, games and polls. Online and offline, attendees can participate in these games, and their votes and answers count equally. Response page animated bar charts also show the viewer's choice, the correct answer and other answer tallies, and the platform tracks and deliver answers via spreadsheets to clients. The client may then use these results for continuing education certification, workshops, seminars, and promotions. As attendees also spend more time viewing, networking and interacting with sponsors, a leaderboard keeps track of who's getting the most points for performing these activities. Attendees also get a stamp for each sponsor they visit, and they can also compete by participating in trivia games to win prizes.
Leverage Performedia's extensive sponsors and eCommerce integrations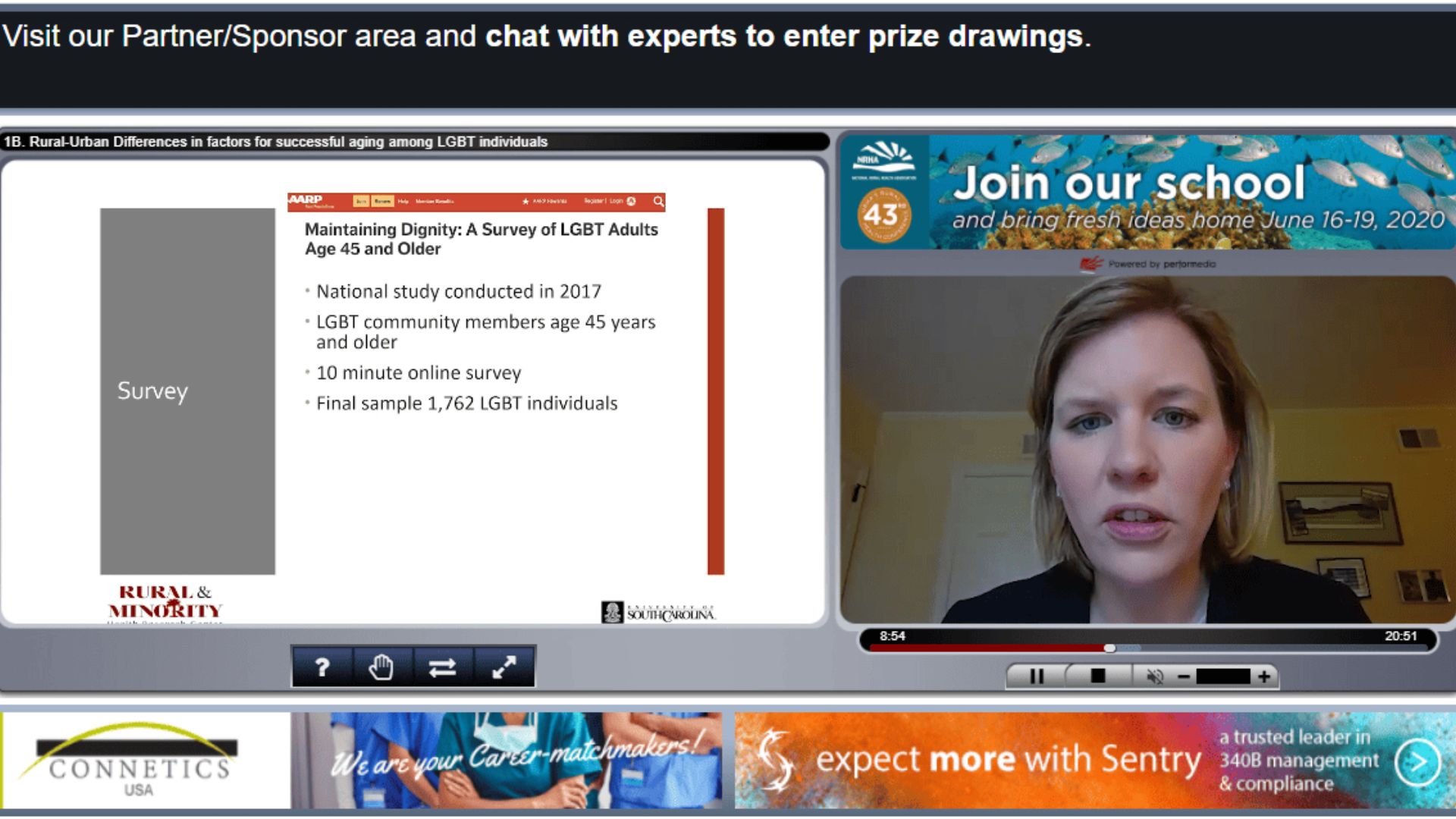 Performedia adopts a creative approach to promote event sponsors to the audience while causing minimal distractions. They use rotating ad banners and text tickers on the media player, where attendees spend considerable time. Sponsors can also set their schedule while attendees set up a meeting with "Schedule A Meeting" available in sponsor spaces. Performedia's platform enables event or meeting attendees to pull up a chair and meet with exhibitors without delay. They also integrated a tracking system into their hybrid and virtual tool to tell sponsors who visited, what they clicked on, and for how long they stayed.
Get comprehensive analytics at your fingertips

Performedia also understands that their clients may prefer to know who went where, who watched what and who stayed for how long. For this, their platform provides extensive analytics that yields great visibility and results. You can track all links clicked on, and pages visited. For each session, the platform also enables you to know participating attendees, the content they watched and for how long they stayed. Attendees can opt out when they register or log in, but for every subscribed attendee, you get customized dashboards and reports covering the data in which you're most interested.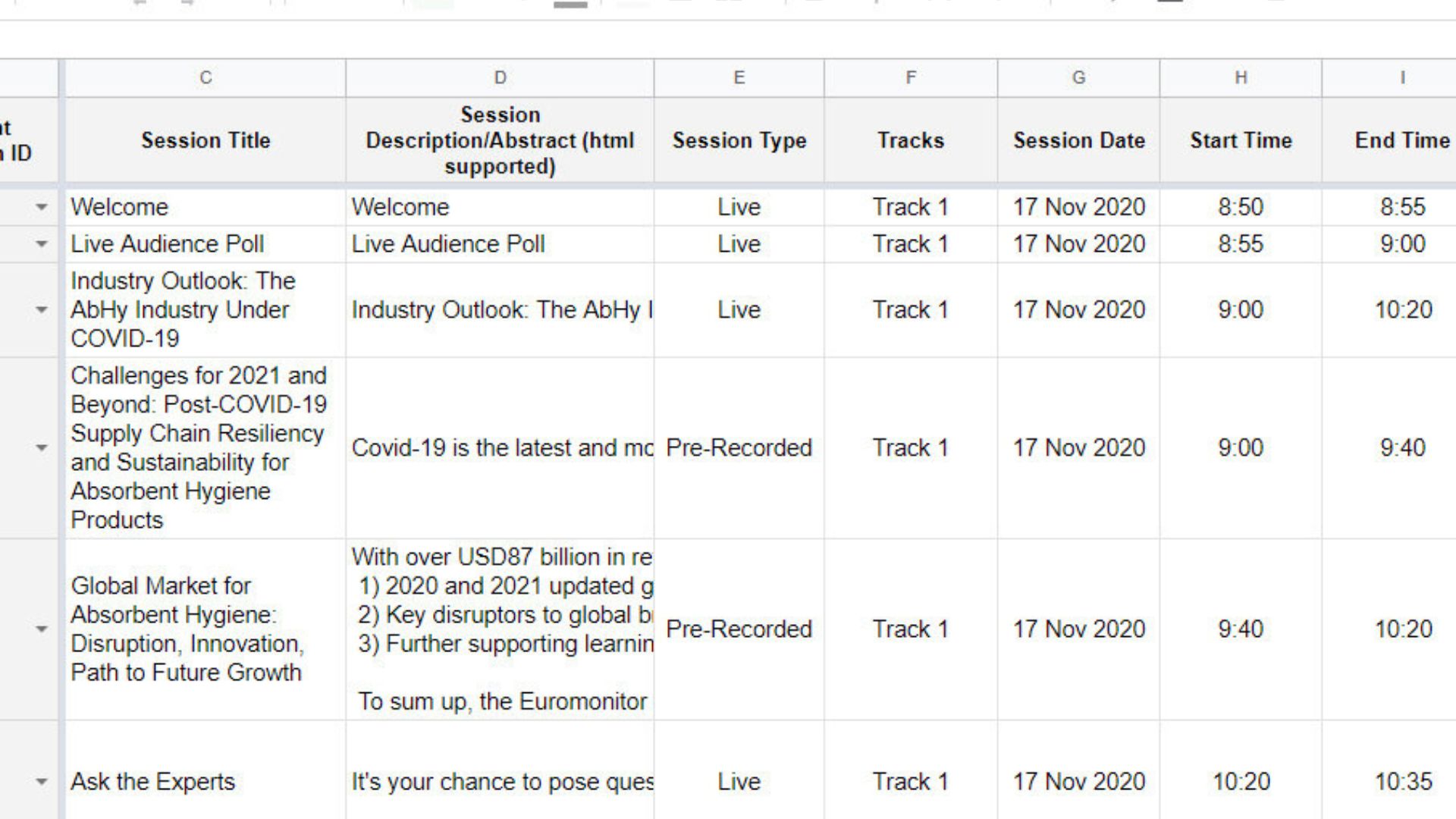 Performedia's hybrid and virtual tool provides extensive support while still ensuring that you have instant control. They help you set up a folder on Google Drive that you can upload, download and check at all times. They also provide you with a template spreadsheet that helps you track your sessions, speakers, attendees and sponsors. If you decide to make a change, you can access the sheet easily, make the necessary changes and synchronize it by pressing the sync button. The items in the spreadsheet are also color-coded in green, yellow and red for you to understand where you are with your pre-records and other statuses.
Get Started with Performedia
Here, we've highlighted why Performedia's platform stands out for your hybrid and virtual events and why you should consider it. To get started, you can visit the company's website at performedia.com. You can either request a demo or click the contact us button, fill out the form that appears then submit it. After filling out the form, a performedia team member may respond to you, discuss your event with you and answer your questions. You may also browse through their website to see clients reviews and testimonies and other services and features.